NAMIS school 2017 IMTEK-Univ. Freiburg
11th NAMIS international Autumn school
"Micro & nano systems engineering:
from fundamentals to industrial applications"

October 2nd -6th,  2017
IMTEK/University of Freiburg, Freiburg, Germany

Organized and supported  by:
IMTEK and CNRS
Other sponsors
| | |
| --- | --- |
| Core-To-Core program of JSPS | |
| | |
Organizers and helpers
IMTEK:
Prof. Jûrgen RÜHE (School Chair)
Dr. Oswald PRUCKER
Prof. Oliver PAUL
CNRS :
Dr. Alain BOSSEBOEUF (CNRS, NAMIS network coordinator)
Introduction
Dear NAMIS members,
Following the sucessful 10th NAMIS school held  in 2016 in IIS/The University of Tokyo (Japan), it is our great pleasure to invite you to participate to the 11th NAMIS school in IMTEK/University of Freiburg (Germany).
School Flyer (Pdf)
This school is open to PhD students, Post-docs, Young researchers and lecturers from NAMIS (Nano & Micro Systems) international network. We request to the representatives of each NAMIS partner to nominate up to four attendees per institution. If places are not completely filled, more nominations per institution will be considered.
High level lectures on fundamental MEMS research and innovative applications as well as hands-on courses on selected subjects, lab tours and companies visits are being prepared. They will be completed by poster sessions, networking and social events.
Except transportation cost from your home country to the school location, accommodation, lunches and some of the dinners will be provided by IMTEK to attendees. This may be summarized as follows:
Airfare+ travel expenses between your country and the school location will be paid by the home laboratory of the attendees.
IMTEK will be in charge of accommodation of attendees from sunday, october the 1st night (check-in) to saturday, october the 7th morning (check-out).
Lunches from monday october the 2nd to friday october the 6th and dinners Monday the 2nd, Wednesday the 4th and Friday the 6th  will be offered by IMTEK.
IMTEK will be responsible for lectures, practical works and visits.
Lecturers will be provided the same meals as participants but will have to pay for their accommodation.
We recommend to future participants of  the 11th NAMIS  school 2017 to read carefully the following information.
Important information for all attendees
Core/school period
From Monday October the 2nd to Friday October the 6th, 2017.
Namis school 2017 Program
List of lectures (Not yet available)
NAMIS school 2017 Registration
To make easier budget management, ecah participaant will have to pay 150€ registration fees.
Registration of participants to the NAMIS school 2017 must have the agreement of their institute/laboratory. Registration form must be carefully filled and sent by e-mail to Prof. Jürgen RÜHE (ruehe[a]imtek.de), Dr. Oswald PRUCKER (prucker[a]imtek.de) and Dr. Alain BOSSEBOEUF (alain.bosseboeuf[a]c2n.upsaclay.fr).
Registration form (.doc)
Location
The NAMIS school will be held in IMTEK, department of Microsystem engineering,  University of Freiburg (http://www.imtek.de/home-en?set_language=en). IMTEK is located in Freiburg- the green city- at the southwest of Germany right at the border to France and Switzerland at the foot of the Black Forest (see map). The city is known for its mild climate and its devotion to sustainability. It is located in Freiburg city (Fribourg-en-Brisgau) (see map)
Address: IMTEK, Department of microsystem engineering, Georges-Köhler-Allee 102
D-79110 Freiburg
see map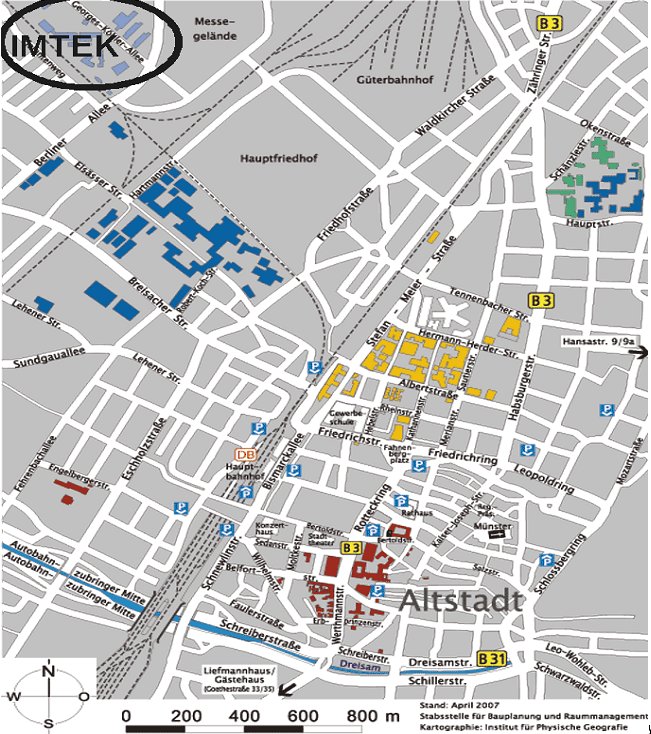 Access information.
Access map (Pdf)

Access by plane:
See map
Freiburg can be joined from  Frankfurt airport terminal by direct high-speed train (ICE). Every hour, travel time : about 2:15.
Visitors flying into Zurich also have an hourly train connection to Freiburg (about 2:00, through Basel).
From Basel / Mulhouse Euro Airport, close to the French/Swiss border near Basel, Regular shuttle buses run to the Freiburg railway station.
Freiburg can also be reach by train from Stuttgart Airport (train connection about 3:00) and from Strasbourg Airport (train connection about 2:00).
Access by train:
From the Freiburg railway station, the one way to reach IMTEK is by the local commuter train ("Breisgau S-Bahn") in the direction "Breisach". The train typically leaves from Track 5. Get off directly on the campus at the stop "FR-Neue Messe / Universität" which is either one or two stops after the railway station, about a 3 minute trip.  Trains generally run every half hour.
Alternatively go up to the tram bridge crossing the tracks at the train station and take Tram 4 to "Messe". The IMTEK is found directly at the terminal stop of the Tram. The tram runs every ten minutes.
There are hourly train connections from Freiburg to Bremen and vice versa; duration about 6 hours of ICE (High Speed Train)  ride; some direct, some with one change at Köln, others with two changes at different locations.
Access by car:
From the A5:
Take the autobahn exit "Freiburg Mitte", towards Freiburg. Leave the B31a at the turn-off marked "Uni-Kliniken". This will take you onto the Berliner Allee, heading towards the "Messe". The campus is located on the left, just before the Messe (Trade Fair Hall).
From the city center:
Follow the B31a heading out of the city, leaving it at the turn-off marked "Uni-Kliniken". This will take you onto the Berliner Allee, heading towards the "Messe". The campus is located on the left, just before the Messe (Trade Fair Hall).
Parking:
The Campus of the Faculty of Engineering maintains a central parking lot. Members of the faculty and afiliated persons have to purchase a parking permit or use a special permit for official purposes.
External guests are parking for free but have to use a guest parking permit. Please contact Manuela Kniß (manuela.kiss[a]imtek.de) at IMTEK beforehand to obtain this guest parking permit.
Note for the lecturers
Lectures should be designed for attendees having very variable background and expertise in the field of Nano and Micro Systems.
As in previous NAMIS schools, we expect the lecturers to provide files of their lecture slides. Slides will be preferably collected before the school for printing and distribution during the school.

Mandatory tasks for NAMIS school attendees
Before the school, all attendees (except lecturers) are requested to prepare and print a poster (A0 size 118.9 cmx84.1 cm portrait shape) on their research work as well as a  2 min flash presentation. Attendees must bring their printed poster and display their poster the 1st day. For the 2 minutes presentation, please prepare 2 slides in lanscape shape with the following size in Powerpoint: Width: 25.4 cm Height:19.05 cm and convert it in Pdf format.  These slides should include information about the attendee and a summary of its poster.
You will have to send the files of your poster and of your flash presentation befote the school. (More instructions will come later)
The attendees must bring at the NAMIS school a printed version of their poster (A0 format portrait shape).

Awards will be delivered to the best posters.
Practical information
This will be a autumn school with frienly atmosphere, so casual wear is appropriate. (Suit and ties are not requested).
VISA
On arrival in Germany (Shengen space), you must show a valid passport establishing your identity and the passport must be valid for six monthes or more. Please check as soon as possible the web site or your local embassy/consulate to confirm whether you need a visa to enter Germany.
An official invitation letter and/or an accommodation booking certificate will be sent to registered students and lecturers who need them.
currency
The currency in Euro (€). Exchange rates can be found for example in the multilingual website http://www.xe.com/en/currencyconverter/
It is recommended to change your currency at the airport.
Accommodation during the school
Accommodation will be provided by IMTEK in dormitories at the Black Forest Hostel (http://www.blackforest-hostel.de/?lang=en) near the historic park of Freiburg. Participants should NOT book a place there on their own, this will be done by school organizers. Please stay at the designated accommodation during the core period.
Linens will be provided. You may bring your own towels or rent them for 50 Cent per piece. You must bring your other toileteries. Internet is available free of charge but no WLAN is available. Use the computers in the facility or bring your own computer and a cable
Location:
Black Forest Hostel, Kartäusertst, 33, 79102 Freiburg. Tel: +49/(0)761/881 78 70
It is 15 minutes walking distance from the main train station; or take tram no.1 to LITTENWEILER, get out at OBERLINDEN, 5 minutes walking distance from there.
Our house is at the foot of a vineyard covered hill and next to a stream.
The Hostel reception is open from 7am to 1am so you can arrive sunday afternoon or evening. Information on available services is available at  http://www.blackforest-hostel.de/services/?lang=en.

IMTEK will be in charge of the accommodation expenses for attendees  Make sure you return the keys!!. For arrival before October the 1st and/or departures after October the 7th , attendees will have to book and pay extra accommodation by themselves. In other words, NAMIS school will not cover your accommodation before October the 1st and after October the 7th.
For lecturers:
IMTEK has made reservations at Park Hotel Post (http://www.park-hotel-post.de/en/) for all outside lecturers. Booking will be made by IMTEK.
Accomodation before october the 1st and after october the 7th
For arrivals before October the 1st and departures after October the 7 th, attendees will have to book and pay an hotel room or other accomodation as well as meals by themselves. Some useful websites for hotel booking are provided beneath and a list of hotels in Freiburg can be found above.
Meals during the school
All lunches and coffee breaks will be offered to attendees and lecturers. Please specify your dietary requirements on the registration form and at lunch place. Get-together, casual dinner and a final banquet dinner will be also offered by IMTEK monday, wednesday and friday evening. Tuesday, and thursday are free evening.
Accompanying persons
Accommodation and meals of accompanying persons of attendees will not be taken in charge by organizers.
internet access during the school
Its is trecommended to limit Internet connexions during lecturers to avoid disturbances. Internet access will be provided to attendees during coffee breaks and at accommodation place.
Contacts
School Chair : Prof. Jürgen RÜHE      ruehe[a]imtek.uni-freiburg.de
NAMIS network: Alain BOSSEBOEUF alain.bosseboeuf[a]u-psud.fr (C2N/CNRS-Univ. Paris Sud-Univ. Paris Saclay)
Travel assistance
For more information on aqccomodation or travel please contact please contact Manuela Kniß, kniss@imtek.de
Travel and sightseeing in  freiburg area
Tourist information: (official website)
Freiburg map (Pdf)
Freiburg surroundings map (Pdf)
Hotels in city center and near Campus
See above recommended hotels otherwise you can consult:
http://www.booking.com,  http://www.tripadvisor.com or http://www.agoda.com
Electricity
Voltage: 230 V 50Hz, Plug: F type . Bring a plug adapter if necessary (see http://www.power-plugs-sockets.com/germany/)
Useful links
IMTEK- university of Freiburg:  http://www.imtek.de/home-en?set_language=en
Note: Information on the 11th NAMIS school in IMTEK-university of Freiburg will be updated when new information will be available, please consult regularly this page.