NAMIS School 2018: Seattle
12th NAMIS International Autumn School
"Micro- and Nano-Engineered Systems for Augmented Humanity"
September 10th-14th, 2018
University of Washington, Seattle, USA
Organized and supported by:
University of Washington and CNRS
Sponsors

NanoES, UW EE, UW CoE; Amazon; Johnson & Johnson, Washington Research Foundation; ClassOne Technology, Corning, FineTech; GCE Market, Heidelberg Instruments, SÜSS MicroTec; AARD / SCIA Systems, Cintas, Daventria; DoD Technologies, EVATEC, EVG, GenISys GmbH; JEOL USA Inc., Nanoscribe GmbH, Oxford Instruments, Park Systems; PlasmaTherm, SMTA, SPTS/Orbotech; Hoya, Millipore Sigma
Organizers
University of Washington
Prof. Karl F. Böhringer (Director, Institute for Nano-engineered Systems)
Dr. Michael T. Khbeis (Director, Washington Nanofabrication Facility)
Dr. Jevne B. Micheau-Cunningham (Deputy Director, Institute for Nano-engineered Systems)
CNRS
Dr. Alain Bosseboeuf (CNRS, NAMIS network coordinator)
Introduction
Dear NAMIS members,
Following the successful 11th NAMIS School held in 2017 at IMTEK/University of Freiburg (Germany), it is our great pleasure to invite you to participate in the 12th NAMIS School at the Institute for Nano-engineered Systems (NanoES) at the University of Washington (UW), in Seattle, USA. The program will take place from Monday, September 10 to Friday, September 14, 2018.
This school is open to graduate students, post-docs, young researchers, and lecturers from laboratories/institutions belonging to or invited by NAMIS partners. We request that the representatives of each NAMIS partner nominate up to four attendees per institution. If places are not completely filled, more nominations per institution will be considered.
High-level lectures on fundamental MEMS research and innovative applications, as well as hands-on courses on selected subjects, lab tours and companies visits are being prepared. They will be complemented by poster sessions, networking and social events.
Except for transportation cost from your home country to the school location, accommodation, lunches and some of the dinners will be provided by University of Washington to attendees. This may be summarized as follows:
Airfare and travel expenses between your country and the school location will be paid by the home laboratory of the attendees.
UW will be in charge of accommodation of attendees from the evening of Sunday, September 9th (check-in) to the morning of Saturday, September 15th (check-out).
Lunches from Monday, September 10th to Friday, September 14th and at least 3 dinners

are expected to be covered

by UW.
UW will be responsible for lectures, practical works and visits.
Lecturers will be provided the same meals as participants but will have to pay for their accommodation.
We recommend that participants in NAMIS School 2018 carefully read the following information:
Program and Course Book
Conference Program (pdf)
Final Course Book (not yet available). A USB key containing the course book will also be distributed to all participants.
Speakers
Synthetic Biology
Baker Lab — talk title TBA (UW Biochemistry)
J. Carothers — "Engineering Sensors and Controllers to Produce Chemicals Using Synthetic Biology" (UW Chemical Engineering)
G. Seelig — "DNA Data Storage and Computation" (UW Computer Science & Engineering and Electrical Engineering)
E. Klavins — "Synthetic Genetic Circuits and Multicellular Systems" (UW Electrical Engineering)
Photonics
K-M. Fu — "Quantum-Enabled Technologies" (UW Physics and Electrical Engineering)
L. Lin — "Solution-Processed Perovskite Devices for Integrated Photonics" (UW Electrical Engineering and Physics)
D. Masiello –"Plasmonics and Nanophotonics Theory at the University of Washington" (UW Chemistry)
D. Ovchinnikov — "Optical and Magnetic Properties of 2D Materials" (Australian Institute for Bioengineering and Nanotechnology, University of Queensland)
A. Majumdar — "Metasurface Freeform Nanophotonics" (UW Electrical Engineering and Physics)
S. Garner — "Flexible Glass Applications & Process Scaling" (Corning)
T. Takahashi – "Photo-Assisted Scanning Probe Methods for Solar Cell Characterization"
Speaker TBA — talk title TBA (Class One)
Neuroscience
A. Orsborn — "Interfacing With a Dynamic Brain: Challenges and Opportunities" (UW Electrical Engineering and Bioengineering)
A. Yazdan-Shahmorad –"Novel Neural Technologies for Neurorehabilitation" (UW Bioengineering and Electrical Engineering)
C. Moritz –"Strategies to Induce Engineered Neuroplasticity After Brain and Spinal Cord Injury" (UW Rehabilitation Medicine)
Speaker TBA — talk title TBA (Micron)
Speaker TBA — talk title TBA (SÜSS MicroTec)
Speaker TBA — talk title TBA (FineTech)
Global Health
B. Lutz — "Paper-Based Devices for Point-of-Care Diagnostics" (UW Bioengineering)
P. Yager — talk title TBA (UW Bioengineering)
S. Onokuri — talk title TBA (Johnson & Johnson)
Speaker TBA — talk title TBA (Heidelberg Instruments)
Registration
The registration fee is US$195 before July 15th, and will rise to US$245 thereafter. An invoice will be provided.
On line payment of registration fees.
Participants in the NAMIS school must have the agreement of their institute/laboratory. The registration form is downloadable from the links given below. Prospective participants should carefully fill out this form, and send it by e-mail to Prof. Karl F. Böhringer (karlb[a]uw.edu), Dr. Jevne B. Micheau-Cunningham (jevne[a]uw.edu) and Dr. Alain Bosseboeuf (alain.bosseboeuf[a]c2n.upsaclay.fr).
Registration form for attendees (.doc)
Registration form for lecturers (.doc)
Location
The NAMIS School 2018 will be held at the Institute for Nano-engineered Systems (NanoES) at at the University of Washington (UW) in Seattle, USA. Seattle is the largest city in Washington State and in the Pacific Northwest region. Maps of the city of Seattle and its surroundings can be found here.
Address and Map
The Institute for Nano-engineered Systems – University of Washington
3946 W Stevens Way NE, Seattle, WA 98105, USA
The lectures will be given in NanoES building (official abbreviation NAN) in classroom number 181.
Map of Seattle campus (https://www.washington.edu/maps/#!/nanoes)
Getting From the Airport to the University of Washington
Seattle-Tacoma International Airport (SeaTac) is located approximately 20 miles south of the University of Washington and 15 miles south of Downtown Seattle. It is approximately 30 minutes by bus, shuttle, taxi, car or Link light-rail. Visitors have several options for ground transportation from the airport to the University of Washington which is located in the University District (U-District) neighborhood.
Detailed information on transportation options can be found in a PDF file, downloadable here.
Accommodation During the School
Accommodation for students and lecturers will be provided by University of Washington in on-campus housing between the evening of September 9th and the morning of September 15th. Participants should NOT book accommodation during this period. Please stay at the designated accommodation during the core period.
Participants may check in after 2:00 pm on Sunday, September 9th at Lander Hall. However, participants will stay at Alder Hall for the duration of the school.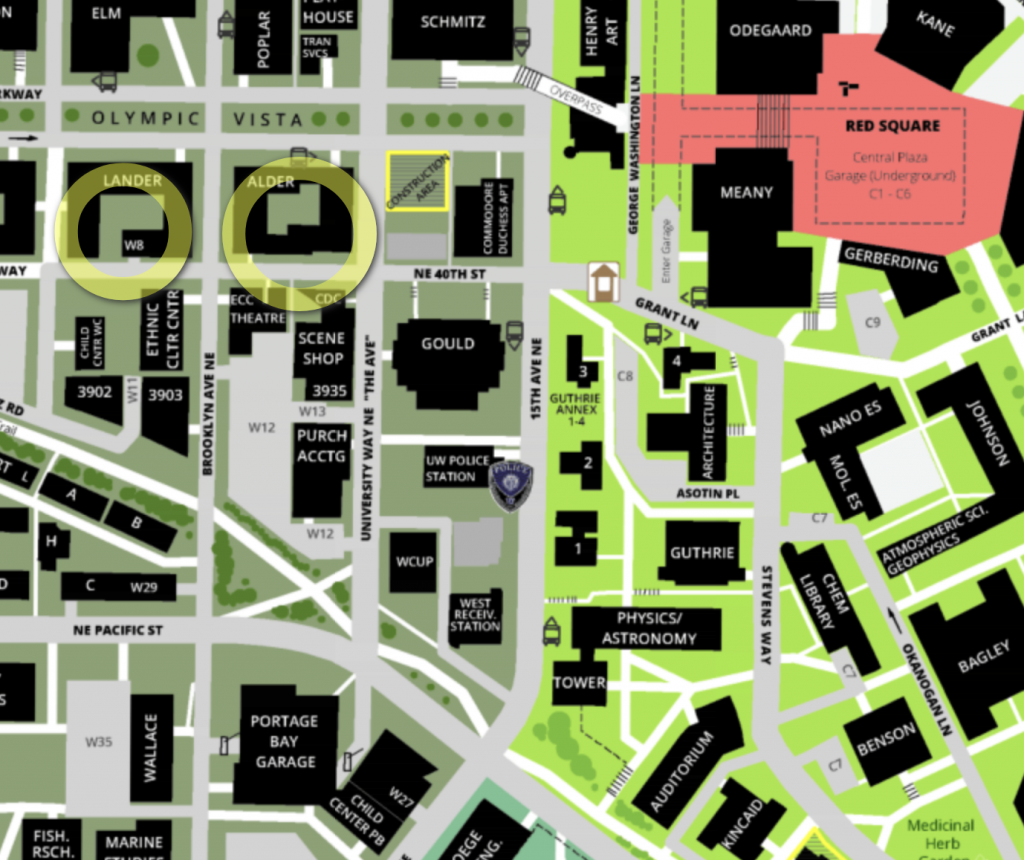 Available amenities: Bathrooms, microwave ovens, laundry facilities, and television lounges are conveniently located. Wireless internet access is available throughout Alder Hall, and hardwired internet access is also available in sleeping rooms (participants must bring their own cables).
Available toiletries: toothbrush, toothpaste, shampoo, conditioner
Participants must check out of the UW residence hall by 11:00 am on Saturday, September 15th. Make sure to return room keys and/or access cards!
Accommodation for Attendees Before September 9th and After September 15th
For arrivals before September 9th and departures after September 15th, attendees will have to book and pay for accommodation and meals by themselves.
Accommodation for Sponsors
Due to substantial construction delays in their remodel and poor customer service, we have no confidence that the original hotel (Deca/Graduate) will be able to accommodate guests during the week of NAMIS School 2018. We have made an alternate hotel block available, and are asking all conference sponsors to cancel their reservation at the Deca/Graduate and rebook at the Silver Cloud Hotel – University District.
Please click here to make a reservation at the Silver Cloud.
The hotel block rate will be available through Sunday, August 12. Please do not hesitate in rebooking, as it is still the high travel season in Seattle. Please ensure you cancel any prior reservations with the Deca/Graduate to avoid being charged a cancellation fee. Click here to look up your reservation with the Deca/Graduate for cancellation.
We sincerely apologize for the inconvenience.
The address of the Silver Cloud Hotel is 5036 25th Avenue NE, Seattle, WA, 98105.
A shuttle service will be provided from the hotel in the morning and back to the hotel in the evening.
Meals During the School
All lunches and coffee breaks will be offered to attendees and lecturers. Please specify your dietary requirements on the registration form and at lunchtime. A get-together, casual dinner and a final banquet dinner will be also offered by UW on Monday, Wednesday and Friday evening, respectively. Tuesday and Thursday will be free evenings.
If eating out in the University District, expect to spend $10-$15 per person including taxes and tip. In Downtown Seattle, expect to spend $15-$25 per person, although this could reach $30+ including drinks.
The University of Washington Visitors' Guide publishes a list of recommended restaurants in the U District. View the list as a PDF: Restaurant Recommendations
Internet Access
Participants will receive a username and password upon check-in at the conference desk. Wi-fi is available in North Campus public areas, as well as everywhere in West Campus buildings (including Alder Hall). Ethernet access is also available in all sleeping rooms, although ethernet cables are not provided. It is recommended to limit Internet use during lectures to avoid disturbances.
Accompanying Persons
Accommodation and meals of accompanying persons will not be covered by UW and NAMIS.
Mandatory Tasks for NAMIS School Attendees
Before the school, all attendees (except lecturers) are requested to prepare and print a poster on their research work as well as a 2 min flash presentation (1-2 slides). The poster must be A0 size in portrait format (118.9 cm x 84.1 cm). Attendees must bring their printed poster for display on the 1st day. For the 2 minute presentation, please prepare 1-2 slides in standard PowerPoint format (landscape orientation, 19.05 cm x 25.4 cm) and convert them to PDF format. These slides should include information about the attendee and a summary of their poster.
Please send the powerpoint file of your flash presentation to namis2018[a]nano.uw.edu with your name and "presentation" in the subject line, and name the file firstname-lastname.pptx. Example: joe-dalton.pptx.
Also, please send your poster file converted into PDF format to alain.bosseboeuf[a]c2n.upsaclay.fr. It will be put on the NAMIS website after the school on a protected page accessible by a password provided to school attendees.
Awards will be given to the best posters.
Note for Lecturers
Lectures should be designed for attendees with variable backgrounds and levels of expertise in the field of Nano and Micro Systems.
As in previous NAMIS schools, lecturers should provide files of their lecture slides to be made available during the school. Lecture slides will also be made available after the school, on a NAMIS webpage protected by a password provided to attendees. If possible, slides should be provided before the school to ease printing and distribution.
Practical Information
Attire and Weather
Clean and casual wear is appropriate for this event (suits and ties are not requested). Average temperatures in mid-September in Seattle range from a low of 12℃ (54℉) to a high of 22℃ (72℉). The weather is most often sunny, but light rain is common. Attendees are encouraged to bring a rain coat, but also to check Seattle weather forecasts before departure.
Passport, Visa, and ESTA
Upon arrival in the United States, you must show a passport establishing your identity, valid for at least six months past the date of entry. Please check as soon as possible with your local embassy/consulate to confirm whether you need a visa to enter the US, and to renew your passport if necessary. An official invitation letter and/or an accommodation booking certificate will be sent to registered students and lecturers who need them. If this is your case, please request such an invitation letter as soon as possible.
It is suggested by the University of Washington that visiting students and instructors apply for a B-1 (Business Visa) for entry into the United States:
https://www.uscis.gov/working-united-states/temporary-visitors-business/b-1-temporary-business-visitor
The visitor should fill out the forms listed at the above website, as it grants permission to visitors traveling for a scientific, educational, professional or business convention, or a conference on specific dates. Please fill out the documents and be prepared to schedule an interview (required). The final paperwork submission and interview should be done thru student's/faculty's consulate of permanent residence or location of study. It is also required that the traveler also have on hand their letter of invitation to the School and the following sponsor contact information at the time they apply for the B-1:
The University of Washington Institute for Nano-engineered Systems
W. Stevens Way NE, Seattle, WA 98195
Contact: Tosha Missel, Administrative Coordinator
Phone: 1 (206) 685-2753
Registrants may also be requested to provide some type of evidence that they will be able to financially support themselves for the duration of the School.
International travelers who do not need a visa nevertheless need travel authorization to enter the USA. It must be obtained a few weeks before going to the USA by the use of the Electronic System for Travel Authorization (ESTA). See http://esta.cbp.dhs.gov/esta/ or a local access to ESTA in your country).
Currency
The currency is US $. Exchange rates can be found, for example, in the multilingual website http://www.xe.com/en/currencyconverter/
It is recommended to change currency at the airport, as attendees will not have easy access to a bank or a money changer during the school.
Electricity
Voltage: 110V 60Hz, Plug: Type A and B (see http://www.power-plugs-sockets.com). Bring a suitable plug adapter if necessary.
Travel Assistance
Please send all questions about travel and accommodations to namis2018[a]nano.uw.edu.
Contacts
UW: Prof. Karl F. Böhringer, karlb[a]uw.edu
NAMIS network: Alain Bosseboeuf, alain.bosseboeuf[a]c2n.upsaclay.fr.fr (C2N/CNRS-Univ. Paris Sud-Univ. Paris Saclay)
Travel and Sightseeing in Seattle Area
Local Information (UW recommendations)
Tourist Information (official site)
Map of Seattle and Surrounding Area (official site)
Hotels in City Center and Near UW Campus
University District
Residence Inn (contact Naomi Tilford, naomi.tilford[a]marriott.com)
Silver Cloud Inn (contact Riley Dirks, rileyd[a]university.silvercloud.com)
Watertown Hotel (contact Reva Cloy, rcloy[a]staypineapple.com)
University Inn (contact Reva Cloy, rcloy[a]staypineapple.com)
Downtown
Note: Information will be updated when available; please consult this page regularly.